About
---
Michael & Joe Raspanti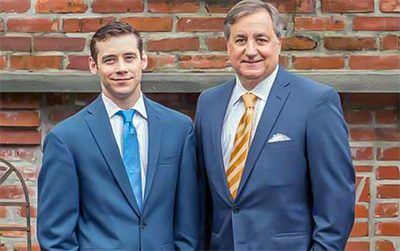 Joseph P. Raspanti
Attorney at Law Criminal Defense and Personal Injury Attorney New Orleans, Louisiana
Joe Raspanti was born and raised in the City of New Orleans. A Brother Martin graduate, Joe attended the University of New Orleans, where he served as President of the UNO Alumni Association and was voted 1993 Homer L. Hitt Alumnus of the Year Award. He went on to LSU Dental School, where he successfully completed the Joint Commission on National Dental Examinations in 1982. From there, Joe attended Loyola Law School and received his juris doctorate in 1986.
Joe wanted to seek out the place where he could get the most trial experience and he was immediately recruited by the Orleans Parish District Attorney's Office as a prosecutor. At that time, he prosecuted hundreds of cases and handled over 70 jury trials to their conclusion. Upon leaving the Orleans Parish District Attorney's Office as a senior trial attorney, Joe went into private practice. Joe has represented the Police Association of New Orleans and has specialized in criminal defense work and plaintiff personal injury work since that time. He has handled some of the highest profile cases in the metropolitan New Orleans area and has successfully defended people from misdemeanor charges up to first degree murder. The Raspanti Law Firm also obtained the first not guilty verdict in a drug conspiracy trial in the U. S. District Court, Eastern District of Louisiana, in the last ten years.
When you call the Raspanti Law Firm, you will not speak to an associate or a secretary. You will speak to Joseph Raspanti, Attorney at Law, and have your issues dealt with immediately.
Mr. Raspanti's expertise at the trial level has aided him greatly in his civil practice. His personal injury record is quite impressive. The ability to go to trial rather than settle for what the insurance company offers, has made his firm one of the most successful plaintiff personal injury firms in the metropolitan New Orleans area.
Joe's reputation in the legal community and his expertise is widely known and respected. WVUE Fox 8 News has used Joe Raspanti as their Legal Analyst for over a decade. He can be seen every Tuesday morning at 7:45 a.m. in his "Law Review" segment, which has gained great popularity in and out of the legal community. Joe can also be seen often in that station's nightly newscasts commenting on and explaining the intricacies of the law for their viewers.
---
Michael G. Raspanti
Attorney at Law
Michael Raspanti was born and raised in New Orleans, Louisiana. After graduating from Jesuit High School in New Orleans, Michael attended The University of Southern Mississippi where he obtained a Bachelor of Science degree, with honors, in Business Administration. Following college, Michael received his juris doctor degree, cum laude, from Loyola New Orleans College of Law where he was also a member of the Trial Advocacy Team.
Prior to joining the Raspanti Law Firm, Michael worked as a prosecutor in the Orleans Parish District Attorney's Office were he handled a wide variety of criminal cases. Since joining the Raspanti Law Firm as an associate attorney, Michael has handled cases in the areas of criminal law, personal injury, divorce, child custody, probate, in addition to other areas of civil litigation. Michael has represented clients in state courts across Louisiana and in federal court.
Bar Admissions:
Louisiana State Courts
United States District Court for the Eastern District of Louisiana
United States Court of Appeals for the Fifth Circuit
Education:
Loyola University New Orleans College of Law,
J.D., cum laude, 2014
University of Southern Mississippi,
B.S., with honors, 2011